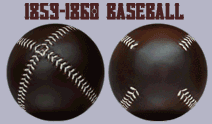 Produced for vintage baseball teams of today, this lemon peel baseball duplicates the look and feel of the hand made baseballs from 1859 through 1860.

Dark leather was used for the cover because it was readily available and easier for the players to see when the ball was hit in the air on a clear day. In fact, famed baseball writer Henry Chadwick advocated using a dark red leather base ball as late as 1875 and stated so in the 1875 DeWitt's Base Ball Umpire's Guide.

This baseball is 9¾ inches in circumference and 5¾ ounces in weight, hand stitched and conforms to the specifications of the National Association of Base-Ball Players for 1859 and 1860.

Only $17.25 Click Here
Order now to receive FREE SHIPPING* within the continental U.S.