Bonds Refuses to Sign Ball for Lucky Fan
Air Force Serviceman Catches Slugger's 713th Blast
By DAN GELSTON, AP Sports
The 25-year-old Air Force serviceman bought his lucky ticket because he wanted to see Bonds chase Babe Ruth on the career home run list. Oliveras had little idea he'd be the one being chased - by fans, by media - after snagging career home run No. 713.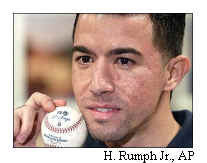 When the San Francisco Giants' slugger hit a mammoth shot in the sixth inning off Philadelphia right-hander Jon Lieber to put him one behind the Babe on Sunday night, the ball bounced around Section 202 and into Oliveras' hands.

"I never thought I was going to be lucky like that," Oliveras said.

This was the first game of the three-game series Oliveras and a friend attended. He bought the ticket two days ago because he's a Bonds fans and wanted to see a slice of history. Then he was part of it.

"Everybody was looking on the floor," Oliveras said. "The ball bounced to me. I grabbed the ball and I stuck it between my legs. Everyone was still looking around."

Oliveras, a native of Puerto Rico, said no one immediately tried to snag the ball because he had it hidden. When the media and Phillies security discovered he caught the ball, other Phillies fans - many who spent the series jeering the sullen slugger - started yelling for him to throw the ball back.

"It made me nervous," he said.

Oliveras, an Airman 1st Class who lives on McGuire Air Force Base in Fort Dix, N.J., paid $20 for his seat in Section 202, Row 7, Seat 24.

He said he is a Bonds fan and would probably keep the ball. He hoped it would have Bonds' signature.

Bonds said no when he was asked at his news conference if he would sign the ball if a fan wanted an autograph. Moments later, when an official asked if there were any more questions, Oliveras piped up:

"Will you sign my ball?"

Bonds smirked and said nothing.

After his news conference, Bonds shook Oliveras' hand and took a picture with him.

"I'm happy because I got a picture and he shook my hand," he said.

There was one signature needed though. Oliveras had to sign a waiver for Bonds' reality show.