STEVEN KEYMAN - Bonds, who owns baseball's single-season home run record, has been under intense scrutiny since excerpts of a new book Released last week said he actively used steroids for at least five seasons. Third on the all time home run leader list, with 714 in reach. What effect will this have on Barry Bonds memorabilia?
Six MVPs, a single-season record 73 home runs, currently third on the all time home run list, and countless other accomplishments. The numbers are there to considered him as an all time great. Yet, some members of the Hall of Fame committee are already questioning if he should be in the Hall of Fame at all. Its a question "of old school" verses "new school," and the same will be for Barry Bonds memorabilia.
Being "old school" myself, I have no use for modern day, over- issued baseball cards. Over priced autograph signings by multi-millionaire ballplayers. I will in fact write this article with no stance either way. Walk into a group of guys talking baseball, and you will have a debate about anything and everything. It's part of baseball, "old school," and "new school." Who's better Mantle or Mays, the Dodgers or the Giants, was it a ball or a strike? Do Steroids help you hit home runs? Old School will damn it in a heart beat... new school will defend it or shrug it off.
Who collects Barry Bonds Memorabilia? The majority of collectors who collect modern day players are under the age of 40. It's just a matter of collecting players from the era when you grew up. I would rather buy a Bobby Murcer rookie card over a Barry Bonds rookie card for the same price. It has nothing to do with any dislike for Bonds. I grew up watching Bobby Murcer and idolized him. A person who grew up idolizing Barry Bonds will snatch up the Bonds card. The next question is, Does the Barry Bonds collector stop collecting because of steroid use?
I would say that the majority of Bonds collectors are new school. Not all, but most. I don't think that the steroid use becomes a major issue with them. Especially if Major League Baseball permits Bonds to continue playing, passes "The Babe" and breaks Hank Aaron's record of 755 home runs.
Proof of this is on eBay. The price of Barry Bonds memorabilia has not been affected in the least. Following are some examples:
Auction ended Mar-13-06- Ticket stub for the May 30, 1990 BARRY BONDS HIT A HOME RUN IN THIS GAME $78.77 This is the same price a 1957 Mickey Mantle Home Run#182 ticket sold for in Auction.
Auction ended Mar-12-061987 fleer BARRY BONDS rookie mint $27.00 9 bidders
Auction ended Mar-13-06 BARRY BONDS SIGNED MAJOR LEAGUE BASEBALL Bonds Hologram and his personal COA $138.50
2 Auctions- ended Mar-13-06 1986 Topps Traded Tiffany Barry Bonds PSA 9 $495.00 / BGS 9.5 $1,280.76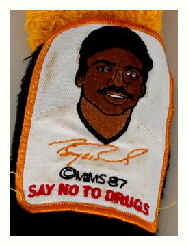 Auction ended Mar-13-06 Barry Bonds Autograph Rawlings Model Bat Scoreboard Inc $303.77
My favorite from another auction Site
1987 Barry Bonds Pirates "Say No to Drugs" Wrist Band
Pictured on the right. Auction Ended 3/16 Finale price $409.00
The main point here is not if the prices are good or bad, but the money is being spent. The fact that collectors are still spending money on Barry Bonds memorabilia, (not cheap either) shows that all this news about steroid use is not having any effect on Barry Bonds memorabilia. With or without the steroid issue, there will always be the argument.... is Barry Bonds better than Hank Aaron? The Barry Bonds fan will still be there when the dust clears. They Love him in San Francisco. He is their franchise.
If baseball Stops Bonds from playing another game because of steroid use, then I think it will have an effect on his memorabilia. This will not happen because Barry Bonds Sells Tickets. Ballparks across the country will be filled up to watch his historic quest of 755. Money is to be made, and Major League Baseball will not throw this money away. The steroid issue will be diplomatically swept under the rug in the best possible manner. The Barry Bond collector has nothing to worry about.

Have an opinion on this topic? Post it on the KeyManCollectibles Message Board
TOP OF PAGE BACK TO KeyMan Collectors Corner