Background:
Baseball has always been our "national pastime" and it always will be. For many people reading about the sport, or about player heroes, is the next best thing to being there.
Baseball books were published from as far back as the 1880s. However, these were mostly manuals of rules and are rare today. While there were some popular novels beginning around 1900, these were available mostly in high-priced hard cover editions, and later beginning in the 20s in cheaper hardcover reprints. Nevertheless, even cheap hardcover reprints were often too expensive for most working class fans, and too big and heavy to carry around comfortably.
There were a plethora of cheap paper books at the time, called "dime novels" and some included novels of baseball fiction, usually only boy's adventure novels. These were often only available by mail order, through subscriptions like magazines. They were not sold in stores. Distribution was a problem. Making the books easily available to readers in handy and inexpensive editions was what was needed. This would soon begin when the pulp and paperback eras began.
The Pulp Magazines:
Once the pulp magazine era began in the 1920s there was now a popular medium where publishers realized they could make money by bringing readers all kinds of fast-moving action and adventure stories -- and many of these readers were also sports fans.
Thus the advent of the sports pulps. Now a fan could buy a newsstand pulp for ten cents or a quarter and read exciting stories about heroes in every type of sport. Many of these magazines were heavily weighed toward baseball-related fiction. Some of the stories featured real players as heroes, but most printed tales about fictional guys breaking into the majors, playing for a farm team, or joining the minors. It was all interesting and great fun.
One of the best and most popular of these sports pulps was Sports Story Magazine (1923-1943) which was a general sports pulp, but then again, mostly baseball stories with baseball cover art. There were many other such pulps, including a few all-baseball pulps. One of these was, Baseball Stories (1938-1954), a key baseball pulp which ran 30 issues and featured stories of struggle and heroism on the diamond and in the dugout. Some of these stories were written by well-known mystery writers like Mike Avallone and William Campbell Gault. There was also Thrilling Baseball (1949-1951). The cover art on these pulps showed heroic players in exciting and tense moments of play, when records were being broken and history being made.
The Paperbacks:
But the pulps were not to last. When they began to die out in the 1950s, a new medium had already become well established, the mass-market paperback book.
With the advent of the mass-market paperback revolution in 1939, publishers now were able to get paperbacks distributed not only into book stores, but also into many non-traditional book outlets such as drug stores, card stores, magazine stands, airports and any other place that would sell them to the public. This improvement in distribution expanded paperback sales ten-fold, then a hundred-fold!
By the end of World War II, and beginning in 1946 when the GI's returned home, the paperback was already the new hit "thing" and readers bought them by the millions. Many of these men were baseball fans who wouldn't necessarily go into a bookstore to buy a pricey $5 hard cover about their favorite player or team, but would "pick up" a 25 cent paperback sold at the local drug store or newsstand on the way home from work.
The colorful, and exciting covers on most baseball paperbacks had wonderful illustrations showing some of our most famous and beloved baseball heroes in action poses. The covers helped sell these books to the fans back then, and also help make them collectable today. The contents also make these books collectable. Most of these paperbacks are full of anecdotes and "inside stories" about the big-name players, key games, or popular teams. They often contain player bios, reams of stats, and stories sometimes told in the player's own words. They also contain exciting illustrations and rare photos. These paperbacks are treasure troves for all baseball fans.
Armed Service Editions (ASEs):
GI's were already used to reading handy soft cover "pocket-size" paperbacks from the war. They read, and passed around, the popular Armed Service Editions (ASEs) given out free to troops fighting in Europe and the Pacific. Featuring a large variety of subjects and with hundreds of books to choose from, the ASEs were very popular with the troops. There were also some very collectable baseball books published in the ASE series. These books were all paperback reprints of original hard covers. While none were dated, they appeared from 1943 to about 1947 and contained a mixture of books about true baseball heroes and popular winning teams, as well as some fiction. Each ASE shows the original hardcover book on the cover.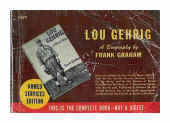 One of the best of the ASE baseball books, was Lou Gehrig by Frank Graham (ASE #J-277, also reprinted as ASE #781). The cover shows "The Iron Horse" in the baggy Columbia University uniform of the era in a classic pose. Other books of note in this tough series are:

Rookie of The Year by John R. Tunis, (#P-3, 1945), fiction.
The Keystone Kids: A Baseball Story by John R. Tunis (#Q-8, 1943), fiction.
The Saint Louis Cardinals by Frederick G. Lieb (#S-25, 1945)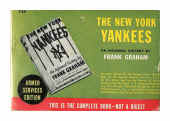 The New York Yankees by Frank Graham (#T-24, also reprinted as #1170, 1945), is an informal history of the Yankees. The back cover tells us: "This is the story of the greatest organization in baseball. It begins with the purchase of the New York franchise in the American League in 1903, and through its pages moves the always colorful figures of the men who created and have maintained this ball club – from Frank Farrell and Bill Devery to Ban Johnson, Clark Griffith to Col. Jacob Ruppert, Ed Barrow, George Weiss, and Joe McCarthy. It's the authentic, often turbulent, behind-the-scenes story of the Yankees.
"Into its scope come all the great Yankee players: Jack Chesbro, Wee Willie Keeler, Hal Chase, Miller Huggins, Babe Ruth, Lou Gehrig, Hoyt, Dugan, Lazzeri, Meusel, Pennock, Joe DiMaggio, Dickey, Keller, to name but a few. It traces the club from its founding development of the vital farm system, to the years of glory. It takes the reader around the circuit, into hotels and trains, and the front office."
Baseball Recorder by Walt Tulley (#1083, 1946)
My Greatest Day in Baseball by John F. Carmichael and others, (#1128)
The Brooklyn Dodgers: An Informal History by Frank Graham (#963, 1945)
The Gashouse Gang by Roy J. Stockton (#1172), the classic 1934 team of the St. Louis Cardinals.
The Chicago Cubs by Warren Brown (#1197)
The Detroit Tigers by Frederick G. Lieb (#1260)
The Boston Red Sox by Frederick G. Lieb (#1271, 1947)
The ASE's that have a particular team as the subject are very collectable and are naturally sought after by fans of those teams. These books are scarce and can run from $30 to $75 in from Good to Very Good+ condition. The Yankees and Red Sox books will run you a bit more, from $35 to $100, depending on condition.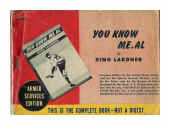 One of the most interesting and well-written baseball books in the ASE series is You Know Me, Al by Ring Lardner (#J278, later reprinted as #782, 1945). Lardner was a baseball fan and sports writer at the turn of the century to the 1920s and wrote these "letters" as short stories. The letters are from a "busher," a bush league player to those at home and were written from 1914 to 1916. The book first appeared in 1925. The cover art shows a pitcher winding up and preparing to release the ball. The book collects great little vignettes of what can only be termed "baseball love"! Here's an excerpt:
"The busher was simply a roughneck, and a fool, a braggart and a liar, he was on occasion a good ballplayer, and he seemed to be inflated with the hot air which had been written about him."
It seems little has changed with some players since those days!
When the GI's came home from World War II it was because of the ASE editions that they were used to reading paperbacks. Now they wanted to read more about baseball so the paperback publishers got to work.
Bantam Books:
Bantam Books was a major publisher of mass-market paperbacks of all kinds but also early on experimented with baseball-related paperbacks from 1948 to 1950. They published eight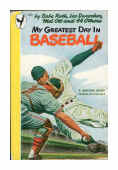 excellent books – almost one after the other in their general numbered series. These books spotlighted the biggest stars in the game at that time, or the most popular teams of the era These stars and teams are still popular today over 50 years later and the books have become very collectable.
The earliest Bantam baseball paperback was My Greatest Day in Baseball by J.P. Carmichael (#500, 1948, which reprinted ASE #1128), it contains, "47 years of the world's greatest sport…". The book features outstanding cover art by Hy Rubin, whose excellent and exciting work graces most of the early Bantam baseball paperback covers. This one shows the runner coming home being tagged by the catcher. It captures that moment in time when the game is in the balance. Will the runner be called safe, or out?
This was followed by Bob Feller's Strikeout Story by Bob Feller himself (#510, 1948), featuring a nice photo of the famous Cleveland Indians' pitcher on the cover. Bantam baseball paperbacks from #501 to #552 also contained eight pages of rare black and white photos inside.
Later that year, one of the most popular books in the series appeared, Babe Ruth by Tom Meany (Bantam #505, 1948) with a nice cover illustration of "the Babe" by Foxley. This would prove to be a perennial favorite then, and today with collectors.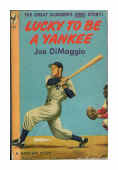 The very next book in the series was also a big hit with fans. This was the ever popular Lucky To Be A Yankee by Joe DiMaggio (#506, 1949), with another fine cover illustration by Hy Rubin showing "Joltin' Joe's" classic swing. In this one the back cover blurbs tell us, "The Yankee Clipper tells his own thrill-packed story. Jolting Joe DiMaggio gives you the home-run thrill of a lifetime – the success story of a San Francisco waterfront kid who climbed into the glorious flannel of the New York Yankees, told with a smack of authenticity as sharp as the crack of his slashing bat. Hear Joe tell of his greatest moments – the 56-game hitting streak, the World Series homers, the gloved-hand catch that robbed Hank Greenberg – and hear him tell just as honestly of his dismal afternoon in the 1936 all-star game when he won hands down the distinction of being the goat of the classic. There are some who say DiMaggio is the game's greatest ballplayer – greater than Williams, Musial, and Feller – but the long-striding Clipper just says he's – "Lucky to Be a Yankee!"
For comic relief there was Clowning Through Baseball by Al Schacht (#507, 1949), which gives us some of the lighter moments in the game with a nice comedic cover illustration.
Later that year Bantam came out with books on two popular teams: The Gashouse Gang by J. Roy Stockton (#552. 1949, also reprints ASE #1172) with cover art by Karl. This is the story of the classic St. Louis Cardinals team of 1934. They won the World Series against the odds, beating the Detroit Tigers in 7 incredibly tense games.
The other book about a popular team was, The Story of the Brooklyn Dodgers edited Ed Fitzgerald (#556, 1949), which has an introduction by Red Barber and had an action-packed cover illustration by Hy Rubin showing Dodger "Pee Wee" Reese getting out an opposing runner for a double-play. The back cover blurbs tell us: "The daffy… hilarious… dazzling Dodgers! They're all here, from the doghouse days of Casey Stengel to Burt Shotton's pennant-winning mob of Peewee Reese, Jackie Robinson, Hugh Casey, and Ralph Branca. You'll turn back the years to meet screwball Babe Herman, who raced doubles into double plays. You'll step out to the mound with wild, fireballing Rex Barney, who scatter-arms his way to the showers one day and no-hits the mighty Giants the next night. It's a power-packed lineup highlighted by the men who know them best – sportswriters like Tom Meany, Red Barber, Dick Young, Quentin Reynolds."
The next year Bantam published Baseball's Greatest Teams by Tom Meany (#763, 1950) with the usual nice cover art by Hy Rubin. This one covers baseball "From the Pirates of '09 to the Cardinals of '42 – with the top Yankee, Dodger and Giant teams included – you'll find here the hustle and excitement of the peak thrill-packed moments in baseball history." The cover has an outstanding illustration of a runner sliding into home as the catcher reaches for the ball to tag him out.
After that, it wasn't until 1959 that Bantam returned with another baseball-related paperback. That was Sports Shorts by Mac David (#A1981, 1959).
Pocket Books, Comet Books & Pocket Books Junior: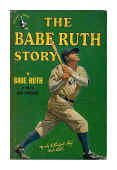 The late 1940s saw other paperback publishers try the waters with books about baseball teams and big-league heroes. Pocket Books came out with their own Babe Ruth book the same year that Bantam came out with their book on Ruth. In 1948, Pocket Books published The Babe Ruth Story by Babe Ruth, as told to veteran sportscaster Bob Considine (Pocket #562, 1948). The cover shows "The Babe" and his distinctive home-run swing. This is a wonderful autobiography of the bad kid who grew up to be one of the greatest sports heroes and then tried to help other kids in need. The Babe dedicated the book "to the Kinds of America."
The next year they published another perennial favorite, Bill Stern's Favorite Baseball Stories by Bill Stern (Pocket #572, 1949), a fascinating and fun book filled with wonderful baseball lore and anecdotes.
Rhubarb by H. Allen Smith (#695, 1950) is something a bit different, it's a funny fantasy novel about a cat who inherits a baseball team. It was later made into a 1951 film with Ray Milland.
Pocket Books also had a children's paperback line -- what would be termed a teenage or young adult line today -- called Comet Books (which ran from #1-34), later they changed the name and format, and it became Pocket Books Junior (beginning with #J-35). These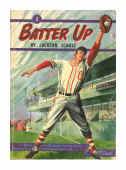 two Pocket Books imprints published at least five books that were baseball-related. They were all fiction about teenage heroes and the trials and tribulations they went through to pitch or hit in the big game. They are still good reads, and are actually charming stories. They include:
Batter Up by Jackson Scholz, (Comet Book #2, 1948), with the usual fine cover art by Robert Frankenberg. Marty was a terrific batter but he had a lot to learn about being a good sport. Remember when good sportsmanship was important? The cover art shows Marty stretching to catch a line drive.
The Southpaw by Donal Hamilton Haines (Comet Book #16, 1949), a novel about Bob Griswold, the star pitcher of Hilton Academy, his teenage problems and how some plotted to keep him from pitching in the big game.
Bat Boy Of The Giants by Garth Garreau, (Comet Book #17, 1949), features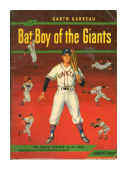 cover and interior art by science fiction legend, Richard Powers. This is a wonderful and true story told by Garth, a New Jersey bat boy. In 1940 he meets all the baseball heroes of the day at the old Polo Grounds, back when the Giants were the New York Giants. He meets and tells stories about Mel Ott, Carl Furillo, Bobby Thompson, Eddie Stanky, Johnny Mize and other heroes. It's a true story touchingly written.
High Inside! By Russell G. Enery, (Pocket Book Junior #J66, 1951).
The Kid Comes Back by John R. Tunis, (Pocket Book Junior #J67, 1951, reprinted in an identical edition by Scholastic TAB Books in 1958), both editions have the same excellent George Meyerriecks cover art showing Brooklyn Dodger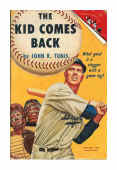 slugger Roy Tucker, the hero of the book, hitting the ball out of the park. This novel continues the adventures of fictional Dodger slugger Roy Tucker, who has come back from World War II with a wound that has given him a game leg. Now he must prove himself to stay on the team. The book continues the earlier Tucker baseball adventures by Tunis, The Kid From Tomkinsville and World Series.
Dell Books:
Dell Books also published two key books during this early era. In 1949, they published Runs, Hits and Errors by Robert Smith (Dell #292), containing the "best yarns and anecdotes from baseball." This is the first and only baseball "Mapback" and it shows a back cover map with the story of the famous 1887 15-game World Series between Detroit (Nationals), and St. Louis (Americans). Detroit won 10-5!
In 1955 Dell published Baseball's Greatest Players by Tom Meany (Dell #839, 1955) with a photo cover, stats and stories about the big-name stars.
Dell Books also published a few one-shot digest paperbacks during this decade that are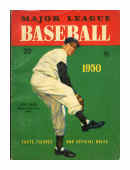 not common but very collectable. I have seen two of them and there are probably more, I assume there is one for each year. They are full of stats for key players and teams, and include nice black and white photos. These include Major League Baseball 1950 edited by H.G. Salsinger and others, a paperback original from 1950 that sold for 25 cents and contains "facts, figures and official rules." The cover shows New York Yankee ace relief pitcher Joe Page, the player of the year for 1949.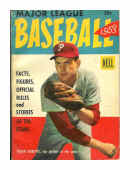 One of my favorite of these Dell digests is Major League Baseball of 1953 edited by H.G. Salsinger and Don H. Black. The book has a 25 cents cover price and contains more facts, figures, official rules and stories of the players. The cover shows famed Philadelphia Phillies pitcher Robin Roberts, the top pitcher of the year. However, it is the photo on the back cover of this book that stirs my Yankee heart. It is a color illustration of a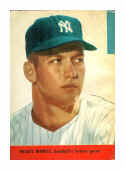 young baby-faced Mickey Mantle, with the caption "Baseball's Future Great!" Like most baseball books the stats are from the previous year, 1952. His rookie year was 1951. This wonderful image of "The Mick" shows him during his second year and anticipates his historic career. A Mantle rookie card recently sold in excess of $50,000!
Jackie Robinson:
Jackie Robinson was the first African-American baseball superstar and a popular Brooklyn Dodger. The first book about him was Jackie Robinson: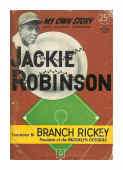 My Own Story by Jackie Robinson as told to Wendell Smith (Avon Books, 1949). This digest paperback reprinted the 1948 Greenberg hardcover. It can sell for $30 to $100 depending on condition and is becoming scarce. The cover price is 25 cents, but the back cover price is 35 cents! Consistency was a problem with some early paperback outfits. The book has a foreword by Branch Rickey and is full of rare black and white photos from Jackie's life and his historic baseball career.
Even more collectable and pricey is the Jackie Robinson paperback that appeared one year later and is even more scarce. In 1950 tiny F.J. Low published The Jackie Robinson Story by Arthur Mann. This was published as a tie-in with the popular film of the same title that starred Jackie himself. The book is also a digest-size paperback and is a first edition original that features a great black & white photo of Jackie on the cover. It's a tough book to find in any condition and can run from $75 in about Good to $300 or more in the higher grades.
These two digest paperbacks are also key cross-over collectibles with a lot of interest because they are about an African-American player and hero, hence the often high demand and price.
Perma Books:
Perma Books was an interesting outfit. This paperback line was published by Doubleday in Garden City, New York, the same publishing family related to Abner Doubleday of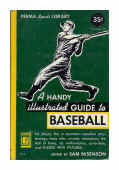 baseball-founding fame. While Perma Books never published a baseball-related paperback, Perma was an interesting publisher because their paperback line spawned a line of small hardcover books. This was the reverse of the usual publishing rule of the time. Most paperback publishers reprinted hardcover books, they did not publish them in hardcover. Perma hard covers were way ahead of their time and are of interest to us because their line contains a very collectable group of small (paperback-size) hard covers. In 1950 they published A Handy Illustrated Guide to Baseball edited by Sam Nisenson (Perma #P77, 1950, 189pp, 35cents cover price). This tiny book is packed with black & white illustrations of plays, rules and stars including Dom and Joe DiMaggio, Bob Feller, Carl Furillo, Ralph Kiner, Stan Musial, "Pee Wee" Reese, Phil Rizzuto, Jackie Robinson, Ted Williams and more.
Lion Books:
Lion Books was an up-and-coming paperback publisher in the 1950s that had all but disappeared by 1960. In their heyday they specialized in hard-boiled crime and westerns, and in-between published a nice crop of early and collectible baseball-related paperbacks.
Lion began their baseball output with Baseball Stars of 1950 edited by Bruce Jacobs (Lion #23, 1950) with cover art by Bob Doares showing an unidentified New York Yankees player sliding into home plate. This is the earliest and scarcest of the Lion baseball books and seems never to be found in Fine condition. It features articles by sports writers on all of the big heroes of the era and nice illustrations by Lenny Hollreiser of players on each chapter heading. These Lion editions contain great write-ups on the most popular baseball heroes of the era.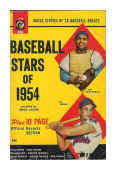 Lion Books and Lion Library Books (a second later series) also include:
Baseball Stars of 1953 edited by Bruce Jacobs, (Lion #125, 1953), with a photo cover.
Baseball Stars of 1954 edited by Bruce Jacobs (Lion #194, 1954), with the cover showing photos of Cleveland's Al Rosen and Brooklyn Dodger, Roy Campanella.
Win – Or Else! By D.J. Michael (Lion #208, April 1954), features outstanding wraparound cover art that shows players in the locker room. This is an interesting novel about what happens when "Big league baseball comes to a minor league city – and the lives of men and women pivot on the outcome of a single game." That big game has the minor league Stars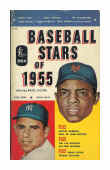 playing the New York Yankees!
Baseball Stars of 1955 edited by Bruce Jacobs, (Lion Library #LL12, 1955), has a cover illustration showing the heads of New York Yankees' catcher Yogi Berra and, interestingly, New York Giant Willie Mays (wearing a NY Giants cap), this in the days before the team moved to San Francisco! The stylized "NY" in the logo would be used by the NY Mets years later.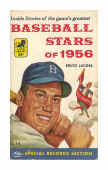 Baseball Stars of 1956 edited by Bruce Jacobs, (Lion Library #LL74, 1956), has an outstanding cover illustration showing Brooklyn Dodger great Duke Snider by Robert Engle, at his side in the lower corner is a "World Champions" banner commemorating the year the Brooklyn Dodgers won the World Series.
Sports Laughs edited by Hermin L. Mosin, (Lion Library #LL103, 1956), contains sports jokes and cartoons, many about baseball, with cover art by Richard Powers.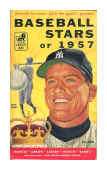 Baseball Stars of 1957 edited by Bruce Jacobs (Lion Library #LL150, 1957), with a glorious cover illustration by Robert Engle that shows New York Yankee, Mickey Mantle. In front of Mickey is a king's crown with the banner "Triple Crown" which celebrates his Triple-Crown year. One back cover blurb tells us, "Mantle, who finally came through beyond expectations – and is still improving…"
During his Triple Crown year in 1956, Mickey Mantle posted a .353 batting average, with 130 runs batted in and 52 home runs!
The Mel Martin Baseball Series:
A six-book series of very good boy's baseball novels are the Mel Martin Baseball Stories written by John R. Cooper. Mel is a right-handed pitcher with a quick-breaking curve who plays on the Westwood High School team and the books often mix baseball with a mystery or detective work.
The series was originally published in the late 40s and early 50s in hardcover from various publishers. Later they were reprinted in cheap hardcover editions from Doubleday's Garden City Publishing Company and Books, Inc. They also came out in attractive trade-size paperbacks from Books, Inc. with cover art by Rebecca Achna. They include:
#1: Mystery at The Ball Park, original hardcover from Cupples & Leon in 1947, reprinted in paperback in 1952 by Books, Inc. Will Westwood High's chances to win the championship be wrecked? What will Mel do? The excellent action cover shows a runner sliding into base as another player is trying to tag him out.
#2:The Southpaw's Secret, original hard cover from Cupples & Leon in 1947, reprinted by Books, Inc., in 1952. The team plays a game at camp when Mel is deliberately spiked.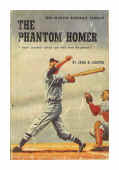 #3: The Phantom Homer, Books Inc., 1953, the Westwood High baseball team faces dissension and mishaps. Cover art shows Mel at bat and swinging for the seats!
#4: The First Base Jinx, Books Inc. 1953, a prototype first baseman's mitt is stolen, great cover art shows a close play at first base.
#5: The Fighting Shortstop, the Books, Inc. trade paperback reprints is from 1953.
#6: The College League Mystery, original hard cover from Garden City Publishing Company in 1951, trade paperback reprint from Books, Inc., 1953, swindler's are putting the squeeze on the Starbuck College baseball team.
This series was re-issued in 1982 by Wanderer Books as the "Grand Slam Mysteries."
Other Publishers:
Throughout the 1950s other mass-market paperback publishers tried their hand at an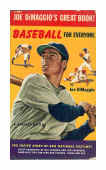 occasional baseball book with varying degrees of success. One of the most popular and collectable was Baseball For Everyone by Joe DiMaggio (Signet Book #718, 1949). This is the only baseball-related book Signet published during the decade of the 50s, but they picked a good one. The book is well worth searching for because of the great cover illustration showing a young "Yankee Clipper" in his classic home-run swing. The book also contains wonderful anecdotes about baseball's heroes and clowns that illustrate the fine art of pitching, catching, fielding and hitting with some great photos and illustrations. This one is harder to find and can run from $20 to about $40.
Avon Books, another major publisher, published at least two paperbacks in this area: It Happens Every Spring by Valentine Davies (Avon #249, 1950). It's a fantasy novel that was made into a hit film and features Vernon Kelly Simpson (ex-professor of chemistry) who becomes a pitcher in the big leagues for the St. Louis Cardinals when his secret formula makes his pitch unable to be hit by batters. The blurbs say, "He pitched like Feller, read like Einstein, and talked like Confucius!"
The other Avon was Big League Baseball (Avon #307, 1950) an anthology that features classic baseball stories by top sports writers, it also contains photos inside. The outstanding cover art shows a pitcher ready to hurl a strike. It's a classic baseball image!
Pyramid Books offered up three interesting and well-done books during the decade of the 50s and would do many more in the 1960s. Their 1950s editions include:
Baseball Stars of 1958 edited by Ray Robinson (Pyramid #G-324, 1958), a paperback original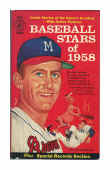 with inside photos. Cover art is by Robert Engle and shows Milwaukee Braves ace pitcher Warren Spahn, with a smaller illustration of an "Indian" (Cleveland) clobbering a guy in a New York Yankee uniform with a baseball bat. The blurbs tell us, "Here are the great men of baseball, the heroes whose feats will thrill thousands from spring training's first pitch to the World Series' final strike – Mantle, Mays, Musial, Schoendienst, Burdette, Williams – 25 sterling stars in all, in this book that every baseball fan will want to read. Here are the inside stories and outstanding records, as exciting as a season ticket behind first base!"
Baseball Stars of 1959 edited by Ray Robinson, (Pyramid #G-392, 1959), shows a cover photo of New York Yankees pitcher Bob Turley and Milwaukee Braves pitcher Warren Spahn. It contains 25 inside stories on players with some nice action photos.
Baseball Stars of 1961 edited by Ray Robinson (Pyramid #G-605, 1961), is a paperback original with inside photos, and a photo cover. Note: There was no book for 1960.
Cardinal Books, another imprint of Pocket Books, also published one book that fits here and that is The Year the Yankees Lost The Pennant by Douglas Wallop (Cardinal #C-328, 1959), a movie tie-in with a cover photo from the popular film.
As the 1950s came to an end and the 1960s began, many more paperbacks on baseball heroes would appear from many more publishers. However, before I end this exploration of these wonderful 1950s vintage era paperbacks there is one series that should be included here as it spans the gap from the 50s into the 60s like no other.
Sports Magazine Library:
In 1961 the Sports Magazine Library (an imprint of Bartholemew House Books) published a wonderful 17 book series about the greatest heroes in sports. These books have great vintage color cover photographs by Ozzie Sweet, contain player life stories and also include career stats. The baseball books in this series are very sought after and seem to have not been distributed that well so that they are uncommon today. These include: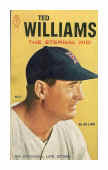 Stan 'The Man" Musial by Irv Goodman (#2, January 1961), showing a photo of the St. Louis Cards slugger on the cover.
Ted Williams, The Eternal Kid by Ed Linn (#3, 1961), the famous Red Sox hero and the last of the .400 hitters looks out from this cover.
Baseball's Best Managers by Harold Rosenthal (#4, 1961), includes articles on Casey Stengel, Leo Durocher, Danny Murtaugh, Paul Richards, Al Lopez and others. The cover has a great photo showing the perpetually cranky New York Yankees' Manager, Casey Stengel.
Mickey Mantle, The Indispensable Yankee by famed sportswriter Dick Schaap, (#5, May 1961), cover photo shows a young Mickey at the height of his career during the famous 1961 season when he was battling with co-Yankee Roger Maris to break Babe Ruth's home run record. By the glint in Mantle's eye in this cover photo, you can see he was swinging for the seats!
Willie Mays: The 'Say-Hey' Kid by Arnold Hano, (#6, 1961), has a wonderful cover photo of Willie Mays in his classic San Franscico Giants uniform.
Warren Spahn by Al Silverman (#9, 1961), gives us a book on the outstanding Milwaukee Braves pitcher.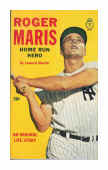 Roger Maris Home Run Hero by Leonard Shecter (#11, October 1961), has a cover that shows the New York Yankee slugger on a book that came out bare weeks before he hit the magic 61 and broke Ruth's home run record.
These are the classic collectable baseball paperbacks published in that long-ago era of the 1940s and the 1950s. I hope you have enjoyed this nostalgic look at baseball…the way it used to be. Better yet, I hope this article spurs you to seek out some of these wonderful books and enjoy them first-hand.
THE END
Copyright c 2007 by Gary Lovisi. All Rights Reserved.
GARY LOVISI is a MWA Edgar Nominated author. He collects and writes about all kinds of collectable books, including paperbacks and is the editor of the paperback collectors magazine, Paperback Parade. He also publishes various items under his Gryphon Books imprint. If you are looking for any of these classic old books, the best place is at his annual book show, Sunday, October 7, 2007 at the Holiday Inn on 57th Street in NYC.

You can find out more or contact Gary Lovisi at his web site: www.gryphonbooks.com