The Jackie Robinson Story Movie Poster / Lobby Card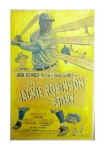 Description - This sign is sometimes described as a "Store advertising window display sign." Back in the 1950s video stores did not exist. You could not go to your locale 5 &10 store to buy, or rent a movie. I assure you that a grocery store owner would not waste space on his window to advertise for a movie that does not make money for him.
The windows in front of the Movie theater would display "Movie Posters," or a "window Card" made of cardboard, and measures 14 x 22 not a 7 1/4" x 11" window sign. In this case would also have NSS information printed at the bottom.
Described as a "Movie Lobby Card or Poster," it does not fit into the standard sizes issued by the NSS (National Screen Service) who issued all material to the movie studios. Some material was issued to the press, and publications for advertising but still would include NSS information.

The standard size for a lobby card is 11 by 14 inches. A set of lobby cards includes seven scene cards and one title card. A "one sheet" the standard movie poster size, is 27 by 41 inches. A "three sheet" is 81 by 40 inches. A "half sheet" is 22 by 28 inches. A "window card" made of cardboard, is 14 by 22 inches. An insert is 14 x 36 inches. Press books, which contain many ad slicks, are sent to film exhibitors to aid in advertising the film. Press books and/or press kits (with photos) are sent to the media to promote a movie. again all items in this case were all issued with NSS information. The poster/Lobby card in question does not fit into any size format, and does not include NSS information.
The Title Card That was made for this movie was made horizontally not vertically like the Lobby card in question. It also contained the NSS markings like the original pictured here.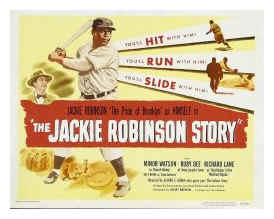 NSS Markings - A title card is sometimes printed with a set of lobby card, and will list credits, and information on the movie. The set for this movie did have a title card made but it was made Horizontal, not vertical like the one in question. A NSS number (National Screen Service) is commonly found on Lobby cards. From 1939 until the mid 1980ís the National Screen Service distributed almost 90% of all American movie posters. They produced, printed, distributed and stocked all of the materials for most of the major movie studios. If a poster is from the NSS era and does not have a NSS number, it may be a reproduction. The original title Lobby Card for this movie does have a NSS number of 50/330. This number represents the movie was made in 1950 (50/), and was the 330th (/330) title released that year.

The color of all the fake movie posters also come into question. They all have the same color fading flaws. none have the correct color scheme, and brown is missing or is substituted with blue. I have never seen brown coloring fade into blue. Yellow is commonly faded into white but will fade before the red disappears like the fakes show. Also notice that the red part that reads "The Jackie Robinson Story" in white. At the top is written in black with a red background "Jackie Robinson the pride of Brooklyn as himself in." On the fake it has a boxed white background. None of the original posters, and cards have this regardless of the size.

The brown behind the stadium, and the two ballplayers at the bottom does not exist on the fake. It also seems that where ever the brown color exist in the original blue was substituted with the images in the fake. Red substitutes the original brown for the print. The fading colors on the fake was intentionally produced to make it look vintage, to date the poster to the 1950s era. I have experiences with window displays sitting in the sun, and I can tell you the yellow is the first to go. It is not the case with this sign. The fading is not natural


Described as lobby card but modeled after the poster

Fake Movie Poster
7 1/4" x 11"

Original Movie poster
27" x 41"

The first two fake examples are from different auctions, and different sellers. Others that I have viewed have the same color flaws. Most of the sellers that sold these posters held private auctions, and information was quickly hidden at auctions end. They sell for $50. - $100. to unsuspecting buyers who think they got a good deal on a $700 Lobby Card. The original 27 x 41 movie poster shown above sold for $1,500.00
---