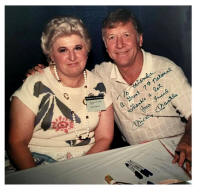 The promoter of the 1986 and 1990 National Conventions in Arlington, Texas, Wanda Marcus was a National Sports Convention Board Member, and Sports memorabilia show promoter since 1983. She was a pioneer as a female promoter in a male dominated industry, and before her passing in 2004, was a major force, an aggressive promoter who brought new marketing concepts to the sports memorabilia industry. Over the years Wanda accumulated a large collection of player autographs, and her family is now making it available to the market.

When Wanda Marcus did a show she perpetuated the myth about Texans doing things big, but she always put the little guy first. When customers walked through the door she made sure they were well taken care of. Her hospitality did not stop there. "You know all the athletes loved my Mom" said Wanda's daughter, Pam Henderson, "She babied them and did extra things to make them happy. She was famous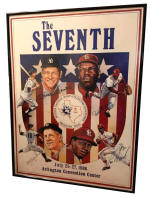 for buying them cowboy boots."

At a time when most sports memorabilia shows didn't have prominent autograph guests, Wanda brought in big name players to sign at the 1986 7th National Sports Collectors Convention. Players such as Mickey Mantle, Whitey Ford, Bob Gibson, and Lou Brock. Marcus had the cover of the 7th National's program enlarged to a "Texas Big" 18x24 backer board poster and had the Hall of Fame players sign it.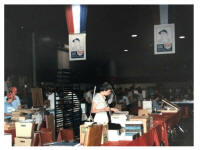 Seven large two sided aisle marker signs featuring Mickey Mantle were made for the 1986 National to help visitors find their way around. Numbered in intervals of 100, seven, six foot by four foot signs, 100-700, were made to be hung from the rafters at the Arlington Convention Center, in Dallas-Fort Worth, TX. The markers that feature two grommets at the top, were secured to long red white and blue banners that hung from the ceiling.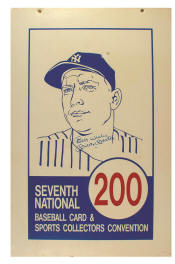 The huge pieces of working art, were retired after the 1986 National, and then signed 'Best Wishes Mickey Mantle' on both sides. Pam Henderson the daughter of 'Wanda Woman' said "Mantle had to get down on the floor to sign them at the house. I wish I had pictures." There were only 7 aisle markers made. Two were ruined in storage, two are staying in the personal collections of Wanda Marcus' family, and three are hitting the market through Leyland's Auction.

Also included in the 20 piece Mickey Mantle Autograph Collection Lot #538 are: Items 1-3) Three signed baseballs, two single-signed and Mantle/Mays/Snider. 4) Signed magazine. 5-6) Two (2) Mantle/Mays/Snider signed prints. 7-10) Four (4) Mantle/Gibson/Ford/Brock signed 7th National Convention 18x24" posters. 11-12) Two (2) Mantle signed Robert Stephen Simon prints. 13) Mantle,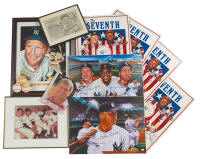 DiMaggio, Martin, Ford signed photo. 14) Mantle signed litho LE /1500. 15-16) Two (2) signed 11x14"s of Mantle and artist Stephen Rockstad. 17) Mickey Mantle signed "I Screwed Up" photo to National Convention Promoter Wanda Marcus. 18-20) Three (3) 1986 Mickey Mantle Signed 6' Aisle Banners from 7th National Convention. All are JSA authenticated except for "I screwed up" piece and aisle banners.

First instructed by Wanda where to sign, Mantle autographed the 'I screwed up' photo "Best Wishes Mickey Mantle" in the wrong spot. Then after Being scolded by Wanda, Mickey who is never at loss for tongue in cheek humor,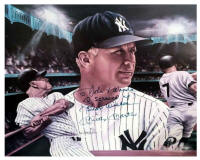 inscribed above it "To John & Wanda I screwed up !" (John was Wanda's husband and assistant)

This collection being featured in Leland's auction house is just the tip of the iceberg. The family plans on selling a verity of autographed memorabilia, from athletes of all sports.