Whether you know it or not most of us now or in the past have collected Advertising.
Baseball Cards. It all began with the images of baseball players on cards sold with tobacco products in the 1880s through WWII when the baseball card industry took on a life of its own with the increasing popularity of the cards as collectibles. As Baseball became more popular tobacco advertisers sought after the endorsements of Baseball players to help sell their products in printed ads. Other industries soon jumped on the band wagon using Ballplayers to help sell everything from Beer to cereal. Ballplayers whom most at the time had to work other jobs welcomed the extra earnings. In doing so advertising not only

recorded American history, as well as baseball history but gave us a reference for dating our vintage Baseball memorabilia.
Most sporting Goods companies did not keep records of what year they issued Gloves, and Bats. After all they weren't selling collectibles, they were selling baseball equipment. But by getting Babe Ruth to endorse a baseball glove, and advertising it in a magazine we now have a way of dating the glove that you found in your Grandfathers attic.

The old advertisements had character, capturing the Look, and lifestyle, of the era the ad came out. Smoking cigarettes wasn't thought of as a health risk back then, it was cool. An era when sports figures commonly advertised for tobacco products. I can't even imagine Derek Jeter pushing Nicotine for Marlboro. In a 1940 advertising featuring three Sports hero's that led the majors in 1939; Joe DiMaggio in Batting, "Bucky" Waters in Wins, and George Case who led the Majors in Stolen Bases indorsed smoking cigarettes. How Many Stolen bases would he have had if he didn't smoke? Hmmm
How cool was it eating cereal and seeing your favorite baseball player pictured right on the box, eating the same cereal as you? Don't you remember? Reading the box was part of eating the cereal. Mickey Mantle pouring Karo Syrup on his pancakes. It's got to be good.

Talking about cool. How about owning the same baseball glove Mickey Mantle is wearing, and pointing to in the ad.
Vintage Advertising is informative. You can learn a lot from these advertisings too. As quoted from a 1967 Armour Franks Advertisement appearing in Life Magazine. "Why just one Armour Star Frank gave Mickey Mantle the food energy for 6 Home Runs!" That means he ate a little more than 89 Hot Dogs in his career. Hey. If he ate another 30 hot dogs he would have caught the Babe.
Beer advertisements are very popular among collectors. You didn't listen to the ball game on the radio in the 40's, or watch a game on T.V. in the 60's without having a Ball Game "brought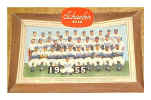 to you by" a beer company. Beer advertisements come in many forms. The most popular being schedules, and team posters that hung in bars.
If you have a Vintage Mickey Mantle Glove it would look great displayed with the original advertising. Collect Advertising just to
use as a reference for dating memorabilia or collect just for the fun of it. You can grab a vintage magazine ad for about $10.00 to $15.00 Frame it, and it's a piece of Art. Advertising is a great inexpensive way of collecting Baseball memorabilia
Click here to see more great advertising pieces.
SEND FEEDBACK TO:: Steve@KeyManCollectibles.com
KeyManCollectibles Newsletter #1 What It Worth?
KeyManCollectibles Newsletter #2 Road Trip Fenway Park
KeyManCollectibles Newsletter #3 Fake Similar Autographs Facsimile
KeyManCollectibles Newsletter #4 Collecting Vintage Baseball Memorabilia Advertising
KeyManCollectibles Newsletter #5 Collecting Vintage Baseball Equipment