---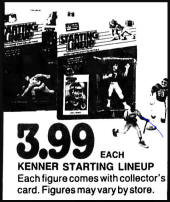 1988 Starting Lineup
---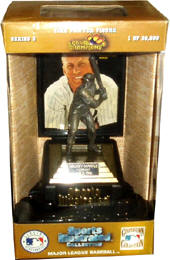 Sports Illustrated Sports Champions Figurine in box
---
| | | |
| --- | --- | --- |
| KeyMan Collectibles | NEWSLETTER | April 2018 |
Baseball Player Figurine and Statuette Sets
Steven KeyMan

- By Steven KeyMan

Founder of Keymancollectibles.com, and a long time collector, Steven KeyMan has more than 30 years of experience in researching, and cataloging information on Baseball Memorabilia. Researching his own personal collection, and helping others find information on their collectibles, the website grew into the largest online resource for baseball memorabilia
---
| | | |
| --- | --- | --- |
| | Ask Steven: Direct your questions or feedback, about Baseball Memorabilia to Steven KeyMan Steve@keymancollectibles.com You can also Send KeyMan pictures of your personal Memorabilia Display, and get your own Free Collectors Showcase Room featured on the website.. | |
One of the earliest figurine-statuette sets representing actual baseball players was Produced by Robert Gould Inc. in 1955. Since that time there have been a large number of sets released including the 1958-1960 Hartland Plastics statues that remains the cornerstone of sports figurine collecting as we know it today. This month we take a look at some of these sets issued throughout the years.
Produced by Robert Gould Inc. in 1955 these completely white plastic baseball player statues, measure about 2 1/4 inches to 3 1/4 inches, with the size varying from player to player. The base of each statue has the players name embossed into the base. A complete set consists of 28 figurines, and were sold in stores separately for about .25 cents, and were attached to a baseball card with a rubber band. The blank backed cards feature a notch and a hole on each side to accommodate the rubber band to hold the statue in place. The Statues were also sold in 7 player boxed sets.

Virtually identical to the white set issued in 1955 by Dairy Queen this is the 1956 Big League Stars Statues. The 18 player bronze colored set included Roy Campanella, Bob Lemon, Mickey Mantle Eddie Mathews, and Stan Musial. The set was issued by Big League inc. in blister packs on a baseball card like backing. The back featured a Lifetime Record, Big League history, and a pull out tab to display the statue without opening the package. The original price for the plastic 3" statue was 19 cents.

Founded in 1941, Hartland Plastics was known for making Plastic western toys, such as horses, and cowboys. The company then released 18 plastic baseball player figurines between 1958 and 1960, that sold for $1.98. at specialty and discount stores like Woolworths. The collection of 18 baseball players included; Babe Ruth, Hank Aaron, Mickey Mantle, Willie Mays, Stan Musial, and other players that would become members of the Hall of Fame. Hartland Statues remains the cornerstone of sports figurine collecting as we know it today.

The 1979 Metallic Creations Signature Miniatures, pewter statues collector sets were commissioned from some of Americas best know artists and sculptors. Approximately 3-1/2 high the statuettes of "your favorite baseball stars" included old school players; Cobb, Gehrig, Johnson, Ruth, and Speaker, to more current ball players as Mays, Clemente, Rose and Ryan. The statues feature the player's name on the top of the base, and included a 3-5/8" x 5" black bordered baseball card. The early statues came with a photographic paper print, and had a blank back.

In 1988 Kenner debuted the Starting Lineup baseball player figures by releasing a 124 player set. Each team was represented by 4-6 players, with the exception of the Expos, and Blue Jays, each with only 1 player. Kenner did not believe Canada had enough retail outlets to warrant full team sets. The New York Mets had 7 players. Also known as SLU by collectors, Kenner issued a variety of these highly popular sets until 2001. The original 1988 SLU figure came with a baseball card and had a suggested retail price of $4.99 $3.99.

Created by Varner Studios, under license by Sports Illustrated, the Sports Champions Pewter Figurines were issued in three series. Each Series featured a baseball player and another noted sports figure. Series 1 - Frank Thomas, Series 2 - Ken Griffey Jr. and Series 3 - Mickey Mantle. In 1998 Roger Maris was Issued. Celebrating four decades of Sports Illustrated covers, each 3.5" pewter statue is mounted on a base standing in front of a framed full-color replica of a classic SI cover. When issued the Suggested Retail price was $24.99.