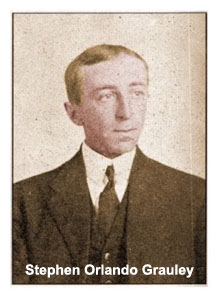 Dubbed as the "Father of the World Series press pin," Stephen Orlando Grauley, AKA S.O.G., was a Philadelphia Inquirer sports writer from 1898 - 1925, and was a close personal friend of Philadelphia Athletics manager & owner, Connie Mack. Grauley's loyalty to Mack led to the creation of a World Series press pin.
The BBWAA - Base Ball Writers Association was founded in 1908 after New York sportswriters became frustrated at constantly losing their seats in the press box at the Polo Grounds. Giants manager John McGraw had a habit of accommodating his many friends by sneaking them into the ballpark and offering them seats in the press box. As the situation became worse, the writers banded together, and formed an association to improve conditions.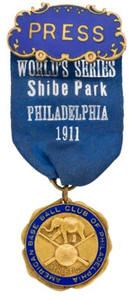 SOG spoke of his "delightful" rear row seat on a beer keg while actors filled the front of the Press Box at the invitation of MacGraw. The best move the writers association made was the advent of press pins, starting in 1911, to rid the press boxes of those "pests". Grauley was instrumental in forming associations that led to the press pin.
With Philadelphia only being a short drive from New York, Grauley suspected McGraw would attempt the same for the 1911 World Series games at Shibe Park. Thus the press pin was born as a means of regulating entry to the limited square footage of Philadelphia's home field journalist quarters.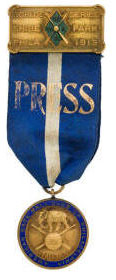 The A's began the tradition of issuing specially made press pins just for the World Series. The pins were a hit. The following year the Giants followed suit and since that time, World Series press pins have been issued every year by each participating clubs.
Grauley's 1911 example is one of only five or six known to survive to this day, and its pristine condition and special significance establishes it as the most desirable World Series press pin ever offered. Also for sale within Heritage Auctions Platinum Night event are Grauley's pins for the 1913 and 1914 Athletics, and the 1915 Philadelphia Phillies, each likewise among the rarest and finest press pins known.
If these press pins are not rare enough, the 1911, 1913, and the 1914 World Series Press pins are also accompanied with the original boxes. Take a good look because chances are you might never see another.