If you find enjoyment in collecting baseball memorabilia, you must give "Oddball Autographs" a try. It's a hobby, have some fun with it. An oddball autograph is an item signed by a ballplayer, that is atypical, bizarre, unusual, or uncommon to the game of baseball itself. For example a betting slip signed by Pete Rose, or a bar napkin signed by Mickey Mantle. An item that will truly strike up a conversation.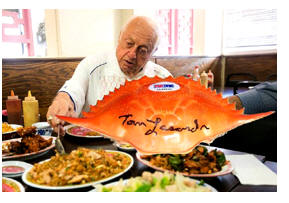 .....And just when you thought you saw it all. A Tom Lasorda PSA/DNA Authentic Single Signed Blue Claw Crab Shell. I could just picture Lasorda being approached at a restaurant to sign a crab. His reaction with Spaghetti hanging out of his mouth would be priceless. As it turns out the crab was autographed in the presence of a PSA/DNA representative. The C.O.A that accompanies the crab that features the hologram sticker, lists that the crab was made by Rawlings....Interesting.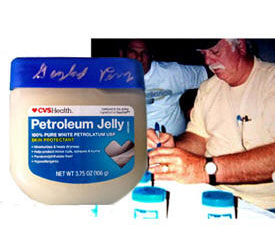 Gaylord Perry finished his Hall of Fame career with 314 wins and 3,524 strikeouts, but his place in baseball history rests mainly with his notorious use of the spitball. As reveled in his 1974 autobiography "Me and the Spitter," Gaylord admitted to throwing mud balls, sweat balls, Vaseline, and K-Y jelly balls. it became common for fans to show up at card shows and ask him to sign jars of Vaseline.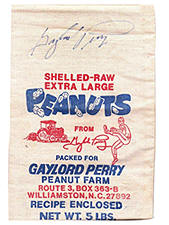 When Gaylord Perry retired from the game in 1983, he became a tobacco and peanut farmer in Williamston N.C. The "Shelled-Raw Extra Large Peanuts" were sold in two different sized burlap bags. One bag was 32 ounces, the other 5 pounds. Pictured here is the 5lb. bag autographed by Perry at the top. The bag "Packed for Gaylord Perry Peanut Farm" also features his facsimile Signature, and a recipe enclosed.
Another "Nutty" oddball autograph is this Corey Koskie signed jar of Skippy Peanut Butter. In honor of Boston Red Sox retiring DH David Ortiz playing his final series ever in Minnesota he received an interesting joke gift from his former club. David Ortiz was presented with a jar of peanut butter from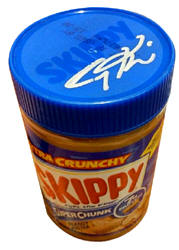 former teammate Corey Koskie as a gift. As the story goes, it was in reference to an old prank that once played out in the Minnesota Twins clubhouse.
Jokesters David Ortiz and Corey Koskie went at it all the time. One day Koskie came out of the game in the seventh inning. David was still in the game. Koskie went upstairs and put peanut butter all in David's tighty whities. The whole team knew about it, and watched it unfold. After the game Ortiz took a shower, put his underwear on, his pants, shirt, and shoes. Ortiz took about 10 steps and when he got to the door, he paused with one foot in the air. Ortiz went off on his teammates as they were on the ground laughing.
Inscribed "Best Wishes to Diane" this mini baseball Bottle opener was given as a gift from Phil Rizzuto in 1957. The novelty bottle opener has a leather cover mini-baseball for a handle, and dates to the mid to late 1950's. it measures 3 1/2" long and 1 5/8" wide. I've seen a number of these bottle openers on ebay from time to time but none autographed by a ballplayer.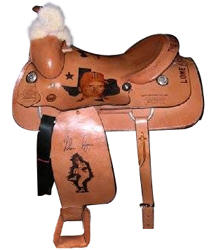 This hand crafted 'Hot Iron Originals' saddle was made by J. Williams in 1997, and celebrates Nolan Ryan's Years with the Texas Rangers, and Houston Astros. The Limited Edition number 25 of 34 leather saddle is signed twice by Ryan, once on each of the two fenders which also features hand burned action shots of the Texas "Lone Star Legend." The Express is immortalized with three more hand burnt portraits, and career milestones achieved while playing with both the Rangers and Astros.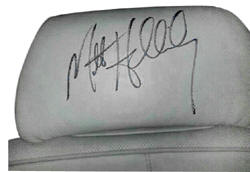 Here is an oddball autograph which value needs to be checked with a Kelley Blue book, instead of SCD's Standard Catalog of Sports memorabilia. This Is a Matt Holliday Autographed BMW that a woman had bought from Matt, and like the Nolan Ryan Saddle, had him sign it twice. Not on the fenders but on each of the two headrests.