Cleaning and conditioning your collectible baseball glove or mitt, will help bring the leather back to life, make a better display, and add value. This is a popular discussion among novice and seasoned glove collectors. The opinions will vary from one collector to another on preferred methods and which products to use. My advice is not to take on a project that is well above your experience.
The restoration of any collectible should be left to the expert that has experience with that type of work. Extreme methods such as stripping and dying the leather should be avoided. Start off with basic cleaning & conditioning methods with inexpensive baseball gloves until you gain enough skill to move on to the advanced products for use on more expensive glove models. Always experiment cleaning obscure parts of the glove first, and always be studious of the work you are doing.
For the most part it is believed that leather cleaners and conditioners can be rubbed into leather by just about anything in a laundry basket. While this is relatively true, it's not the best way to do it. Some "rags" or clothes have
abrasive and lint-ridden qualities that might not do the job as well. Use the correct tools for any job.
Microfiber and terry cloth come highly recommended for use on cleaning and conditioning leather. Microfiber cloths are a synthetic material made up of tiny strands. Each strand is about 1% the diameter of a human hair and can be tightly woven to to form a soft, silky cloth with remarkable durability, absorption and filtering capacity. In addition, it's pretty lightweight, and has an almost magnetic attraction to dust.
Terry cloth, has been around a lot longer, and does have unique qualities that make it highly recommend as well. Both of these fabrics clearly have their strong points. Which leather conditioner applicator you should use depends on your type of leather and how you're going to use it. For the most part both will safely do the job on any type of leather and only through experience of use will you learn the best for your project.
Before conditioning your glove it would be a good idea to clean it first. Even if you feel the glove is not dirty, removing any minor surface dirt will prepare the leather to fully absorb what ever conditioning you use.
To safely clean the glove you could use a gentle leather cleaner like Lexol-pH Leather Cleaner, or Nokona Glove Conditioner which gives a nice glow to the leather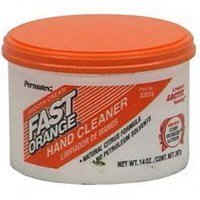 once it's clean. Permatex Fast Orange Smooth formula Hand Cleaner comes highly recommended by hardcore Glove collectors, and restorers.

Permatex Fast Orange can be found at Lowes Home Improvement Stores, AutoZone, K-Mart or your local hardware store. It can also be purchased on line. Be sure to purchase the Smooth formula, and not with pumice which is abrasive, and will harm the leather. Permatex Fast Orange will clean the grime from the glove. The contents list lanolin as an ingredient so that is a plus in helping to keep the glove supple. As with most cleaning products you use it will also dry out the leather a bit after use so apply conditioning shortly after cleaning.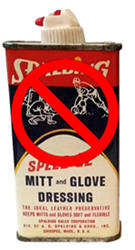 Conventional glove oils sold over the counter is fine for a glove we are going to work in to play ball with. Some of these oils will most likely darken the color of the glove, and could leave oil spots. These oils, especially if over applied could clog the pores of the leather and actually shorten the life of the leather. For a collectible glove which will be displayed we want to avoid any of this. There are a number of different products you could use to condition the glove. Some are listed in the
Vintage Baseball Glove Cleaning and Conditioning Guide
on the website. Horseman's One step is growing in popularity, and can be used for both cleaning and conditioning.
A "Rule of Thumb" is to never use anything on your glove that you would not use on your hands. If the glove you're working on is very dry, and stiff, I've found it's actually best to start with the interior of the glove. Go way up inside the fingers with a toothbrush, on all surfaces, behind the wrist strap and under any folds that might go overlooked. Doing this step first lets you put the glove on to do the rest. Then go to the back of the glove, between the fingers, and then finally the pocket and the rest of the front surface.
Repeat applications as needed. This will only serve to make the leather cleaner and healthier. For old grease stains it helps to scrub it in with an old toothbrush, then wipe the lifted grease away. Most products will soften ink stains, but not remove them completely in all instances. This is another subject of great discussion. The removal of inked in names.
Names written with Magic Marker and Sharpie are permanent and tougher to remove or lighten than ballpoint ink and felt tip markers. I have read many suggestions that include the use of a toothbrush with Murphy's Oil Soap, and Motsenbocker, Lift Off #3 Pen, Ink & Marker/Graffiti Remover. A futile attempt in the removal of inked in names can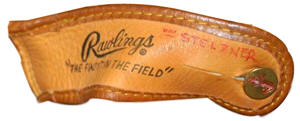 leave the the leather looking bleached, and Blotchy
My recommendation is, unless the name is a total eye sore, leave well enough alone and let it be. You could make it look a lot worse. Besides, most names are written on the back or side of the glove where it cannot be seen when displayed.
If you want to take the next step up in extreme glove restoration, cleaning and conditioning, you might want to join a
Vintage Baseball Glove Forum
that will feature posts from advanced glove collectors. You will also find many websites online that will educated you on the cleaning, conditioning, and preservation of leather. Sites that deal in leather goods such as saddles, clothing or furniture.