Welcome to John's Walls of Frame
Collectors Profile
Name: John
Location: Bellmore, New York
Email: Contact Subject: Black and white photo of Al Capone signing a baseball for Gabby Hartnett

Collecting Interests: Black and white photos, cereal boxes, bobble heads, McFarlane figurines, Lapel pins and odd baseball related pieces.
<---
Last Room
-
Collectors Showcase Index
-
Next Room
--->
Pictures open in a new window.

---
---
---
---
---
---
---
---
---
---
---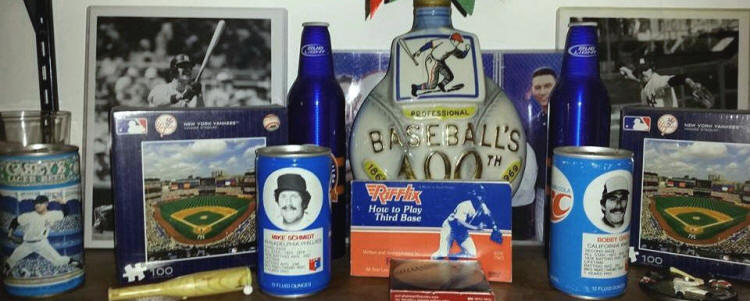 ---
Click here to get your own Collectors Showcase room!
<---
Last Room
-
Collectors Showcase Index
-
Next Room
--->
NOTES:
Although I do have a few signed baseballs and quite a few bobble heads, I prefer any odd baseball related items. I usually hit the flea markets for those items. Some of my more odd pieces include a jar of Vaseline signed by Gaylord Perry, A box of Zuccaritas cereal from Mexico featuring Ivan Rodriguez, A baseball signed by actor Larry Storch from the tv shoe F Troop and a place mat from Mickey Mantle's Holiday Inn at Joplin Mo. I'm also pretty much addicted to McFarlanes so I spend a lot of time chasing them down.