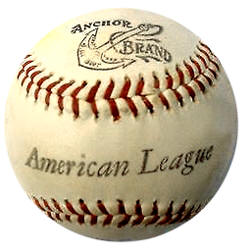 Founded in 1889, Anchor Brand baseball manufacture, J. deBeer and Son specialized in private branding. They would produce baseballs for another company and place the name brand of that company on the ball. A service all of the major sporting goods manufacturers would offer. Large mail order catalogs, hardware and department stores would take advantage of this service to promote their name brand, being sold along side suppliers of sports equipment.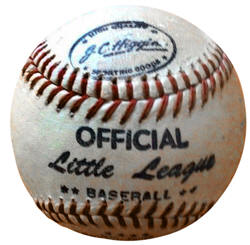 From 1908 until 1961 Sears, Roebuck & Company sold a wide variety of sporting goods, under the brand name "J. C. Higgins." John Higgins was the manager of the headquarters' office bookkeepers. John Higgins consented to Sears use of his name for a new line of sporting goods. Since he did not have a middle initial, Sears added the "C." In 1908, the Western Sporting Goods Company in Chicago began putting J.C. Higgins on baseballs and baseball gloves sold in Sears catalogs. The J.C. Higgins brand disappeared shortly after Sears introduced the Ted Williams brand of sporting goods in 1961.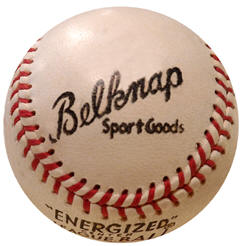 The Belknap Hardware & Mfg Co., wholesale hardware supply was established in 1840. They began by producing iron products, such as horse and mule shoes, nails, spikes and other forged items in a small shop. Since 1890 their catalog included a line of sporting goods that included baseball gloves, bats, and baseballs that were made and branded by other manufacturers. The "Energized Center League Ball" pictured here, was manufactured and is a J.deBeer & Son trademark baseball.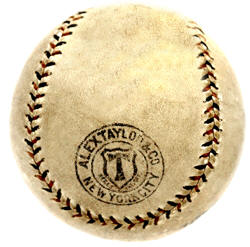 Starting as a clerk at a sporting goods store called Johnson & Stoughtenburgh, Alex Taylor founded Alex Taylor & Co. in 1897. At one time it was one of the major Sporting Goods store located in New York. American League owners of MLB teams provided baseballs, bats, and gloves to the doughboys serving overseas, as part of the WWI "Bat and Ball fund." Alex Taylor & Co. placed an advertisement in the Stars and Stripes that showed a hurdling doughboy over the caption "Athletes Make the Best Fighters" That advertisement then announced that the company had been awarded a contract to fill the sports need of the troops, which included Taylor League Baseballs.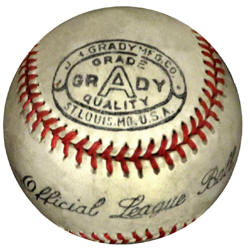 The
J.H. Grady Manufacturing Co.
was organized as a subsidiary of Rawlings Sporting Goods in 1923 for the production of Rawlings baseballs. John Henry Grady, who made baseballs for Rawlings as a youngster, was named President. In 1946 Rawlings acquired the J.H. Grady Production Organization. This was Rawlings' entry into baseball and softball creation. This acquisition paved the way for Rawlings to develop into the official baseball of Major League baseballs in 1977. John H. Grady assignor to J.H. Grady held a number of patents for the manufacturing of baseballs and softballs. The J.H. Grady Trademark "Duro seam" was patented in 1932, and was used by all the Major baseball manufactures including Spalding, Reach, Wilson and Rawlings.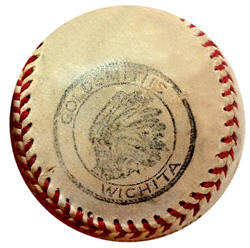 Not to be confused with P. Goldsmith & Sons Sporting Goods of Cincinnati,
Goldsmith's Inc. of Wichita
, a book & stationary store, was established in 1887. They became one of the country's largest office furniture dealers, and eventually, in 1900, expanded their inventory to sporting goods, which included a line of baseballs, bats and gloves. The late 1920s, Goldsmith hired Ray "Hap" Dumont to grow the company's sporting goods business. Dumont became the head of the National semi-professional baseball tournament in Wichita. In 1935 Dumont organized his first National tournament, whose most valuable player was none other than Satchel Paige.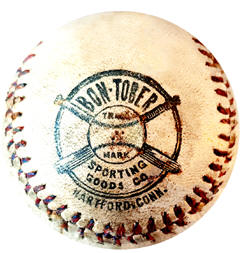 Making baseballs since 1902, Russian Immigrant Meyer Tober was a co-founder of
Bon-Tober Sporting Goods
in 1912. From their factory located in Hartford CT. the company manufactured leather sporting goods, which included baseballs. The company was purchased in 1927 by the McKinnon Dash Co. a manufacture of dashboards for horse drawn buggies dating back to 1878. For a short transition period products were sold with the Bon-Tober/McKinnon brand name. After the McKinnon buyout, Meyer Tober formed the Tober Baseball Manufacturing Co. in Manchester, manufacturing Eagle brand baseballs and softballs.
In 1964, the President of the Tober Baseball Manufacturing Co. Meyer Tober, Age 82, was shot & murdered by employee Adino Ryes. The day before the shooting Tober had been talking to Ryes who had been considering committing suicide because of family problems. Tober had tried to talk him out of it, and urged Ryes to see a doctor. The company continued to operate until 1970 when a factory fire might have closed them down. The Tober family was committed in getting the factory up and running, but there is no news thereafter.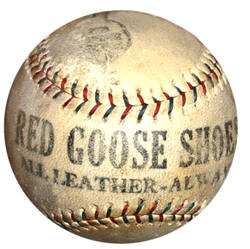 This baseball was privately branded for Red Goose Shoes. Established in 1869 in St. Louis, Missouri, the Red Goose Shoe company merged with the International Shoe Company in 1911. The Red Goose logo was trademarked in 1906, and was used on many promotional items such as Red Goose story books, Golden Eggs, banks, Notepads, Shoehorns etc... The Shoe store also had baseballs, bats, and gloves produced for them with the
Red Goose Shoes branding
.