During the early days of baseball and into the mid 20th century most woodworking companies took advantage of the great demand for baseball bats. It was a way of generating extra income for the business especially during tough times brought on by the Great Depression. Small towns depended on mail order, local general or hardware stores for their sporting good needs. Some had privately branded labels made by the local wood turners or major sporting goods manufactures, resulting in 100's of privately branded labels.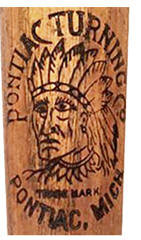 Established in 1893, the Pontiac Buggy Company manufactured horse drawn carriages in Pontiac, Michigan. With the invent of the motor car the company then established the Oakland Motor Car Corp. and turned it's attention to manufacturing automobiles. The Pontiac became its own General Motors division in the 1930's. Competing in the market with Spalding, Reach, and a young Hillerich & Bradsby company, the factory in Pontiac also turn out baseball bats. In 1912 J.F Hillerich & Sons Company, Louisville Slugger baseball bat company acquired the plant of the
Pontiac Turning Company
to increase production of their brand of baseball bats but also continued to manufacture the Pontiac brand for a number of years.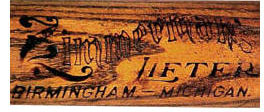 Tool Handle manufacturers also got into the business of turning out baseball bats. One of the earliest companies to do so was the Zimmerman Manufacturing Company. Located in Owosso, Michigan, in the mid 1890's they produced axe handles, neck yokes, Billy clubs, and baseball bats. Established in 1885, the
Sheldon Handle Co.
, specializing in axe, pick, and sledge handles expanded there saw mil in 1934, to meet an order place by the Spalding Sporting Goods company for 125,000 baseball bat blanks (billets).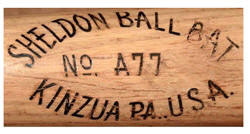 Sheldon turned out baseball bats in Kinzua, Pennsylvania, until 1960 when against the wishes of the Seneca Nation of Indians, the government bought out the town to make room for the Kinzua Dam. The remains of Seneca ancestors were bulldozed to make way for the dam, which became operational in 1966. 10,000 acres of Seneca ancestral homeland were flooded, forcing the relocation of its residents including 600 Seneca Indians. Johnny cash wrote and performed a song about the incident. In 1963 the Sheldon Handle company relocated to Virginia.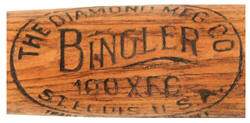 Most small towns across the country would have had too low of a population to support a sporting goods store. Local athletes would have to rely on a mail order company, hardware or general stores to purchase their sporting goods. The A.F. Shapleigh Hardware Company was founded in 1843, and by the early 1900's the Hardware supplier carried a full range of household goods, hardware, guns, knives and baseball bats with the private brand "
Diamond MFG. Co.
"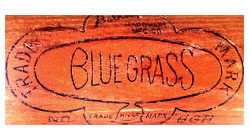 Belknap Hardware
was established in 1840, produced iron products, such as horseshoes, nails, spikes and other forged items in a small shop. Starting in 1890 their catalog included a line of sporting goods that included baseball Bats, which were manufactured by Hillerich & Bradsby Co. Their private Trademark Blue Grass brand of general goods was used on many items including the line of baseball bats they carried.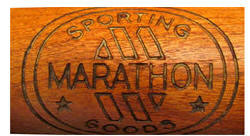 Mail Order companies such as Montgomery ward and Sears sold privately branded baseball bats, that were manufactured by Hillerich & Bradsby. Montgomery Ward sold the privately branded line of
Marathon baseball bats
. Sears, JC Higgins. John Higgins the manager of the Sears headquarters' office bookkeepers, consented to Sears the use of his name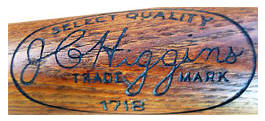 for a new line of sporting goods. Since he did not have a middle initial, Sears added the "C." The JC Higgins brand was used by Sears until 1961, when sears introduced the Ted Williams brand of sporting goods.
Some large sporting Good stores also had bats made for them with their own unique branding.
Alex Taylor & Co.
which at one time was one of the major Sporting Goods store located in New York, N.Y. was established in 1897. The company went on to become a major manufacture of hockey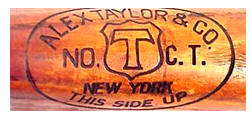 equipment & Jersey's used by the NHL. Their catalog featured both Louisville Slugger and the Alex Taylor brand of baseball bats. One center brand featured an interesting instruction "THIS SIDE UP" stamping within the label.
Major League ballplayers such as Ty Cobb, Honus Wagner and Joe DiMaggio ventured into the business of peddling privately branded sporting goods & baseball bats. Ty Cobb souvenir Ball Bats were sold at ball parks across the nation. The Honus Wagner Co. sold Sporting Goods in downtown Pittsburgh, and Joe DiMaggio lent his name to Hillcrest Sporting Goods Inc.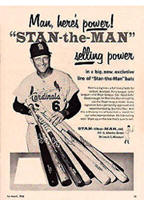 Based in St. Louis Missouri
Stan-The-Man Inc.
was a company that Stan Musial was involved with after his playing career. The company sold Stan Musial memorabilia that included "Stan the Man Inc." branded Baseball Bats. A line of player endorsed bats were sold through retail stores and a few bats were used by Stan Musial himself at the Major League level before his retirement in 1963. In 1966 Stan-The-Man "Little Cardinal" baseball bats were given away by the St. Louis Cardinals for Bat Day.
---
There are hundreds of privately branded baseball bats labeled by a large verity of businesses ranging from companies that sell Firearms such as Winchester, Folsom and Schmelzer Arms, to companies that sold children's shoes, with the Star Brand Shoes-Poll Parrot brand baseball bats. These bats will be cataloged in the
Vintage Baseball Bat Dating Guide
on the website, in Misc. & Private branded baseball Bats. If you have a bat that you can't identify, and hasn't been added to the guide, send some pictures to
Steve@keymancollectibles.com
.