In the last 100 years of the game, there were a number of baseball records left out of the record books, but they did make it into Billboard Magazine.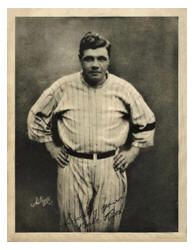 Babe Ruth was the first player to be honored by a phonograph record. The 1920 release of the monolog titled "Babe Ruth's Home Run Story" was one of the earliest methods used for recording a record. Dated before the use of vinyl in 1926, the records were made of a mixture of shellac and slate dust.
The record was first made available in 1920 at any Pathe Records dealer or by using a coupon featured in a number of magazine advertisements, "clip the coupon and mail it to" Pathe Freres Phonograph Co. 20 Grand Avenue, Brooklyn NY." with a dollar pinned to it." The record came with "one photographic print of his autographed photograph Free."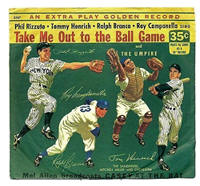 "Take Me out to the Ball Game" is baseballs Theme song. It is the third most frequently heard song in America, behind the National Anthem and Happy Birthday. In 1952 Golden records released a 7 inch Extra-Play record featuring two songs on side one, "
Take Me Out to The Ball Game
" and "The Umpire." Both songs feature the singing voices of New York Yankees Phil Rizzuto, Tommy Henrich, Brooklyn Dodgers Ralph Branca, Roy Campanella, with Anne Lloyd, The Sandpipers, Mitchell Miller And Orchestra. Side two features "Casey at the Bat" performed by "famous sports announcer" Mel Allen.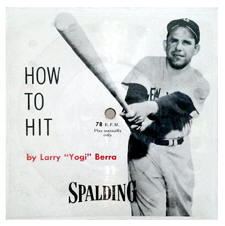 In 1955 Rainbo Records introduced a patented method to produce flexible records as the "Record-On-A-Box" for a Wheaties promotion. Spalding was one of the first companies to jump on the new technology. In
1956 Spalding gave away 2 free baseball 78 RPM Flexi-records
with a cardboard backing to promote their line of baseball gloves.
The recordings were made available free at a local sporting goods store just to show up to check out the line of Spalding Gloves. The transparent flexi record was glued to a cardboard advertising. The promotion consisted of two 5 1/2" x 5 1/2" records; "How To Hit" by Larry "Yogi" and "How to Field" by Alvin Dark. Over the years the flexi records were used for numerous promotions, and "talking baseball cards," until the invent of CD's and digital recordings. Perhaps the most well known flexi record was the 1962 and 1964 Auravision records.
In 1962 Columbia Record productions put out a test issue set of 8 premium Auravision paper disc records. The transparent flexi record was laminated over a cardboard picture of a ballplayer, with the player's stats on the back. In
1964 a 16 record set was released
. The 33 1/3 RPM records were made available in special offers through Yoo-Hoo, Milk Duds candy boxes and Meadow Gold Milk containers. The records contain a 5 minute player interview with Sportscaster Marty Glickman.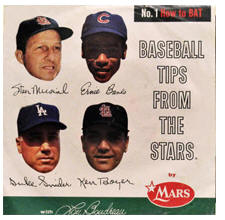 Also in 1962 Mars Candy offered 3 promotional phonographic records entitled "Baseball Tips From the Stars." The 33 1/3 rpm 7" vinyl records were made available for only 50 cents each, and four wrappers from any Mars Candy Bars; Milky Way, Snickers, 3 Musketeers, Mars Toasted Almond Bar, Forever Yours, Mars Coconut Bar, and Marsettes.
Narrated By Lou Boudreau, "Baseball Tips From The Stars" featured helpful Hints in the Stars Own Voices. The three recods included: No 1- "How To Bat" with Stan Musial, Ernie Banks, Duke Snider and Ken Boyer, No 2- "How To Pitch" with Warren Spahn, Joey Jay, Johnny Podres, and Don Drysdale and No 3- "How To Field" with Willie Mays, John Roseboro, Gil Hodges,and Don Hoak. The audio features Interviews with the ballplayers, recorded live at Major League parks during batting and fielding practice.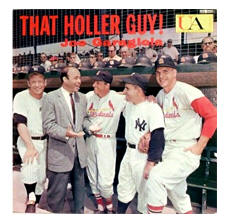 Released by United Artists in time for the start of the 1959 baseball season "
That Holler Guy!
" features a hilarious album of speeches from baseball press dinners by former St. Louis Cardinals catcher, and long time announcer Joe Garagiola. Howls of sportswriters heard in the album are testimony to Joe's baseball funny-bone.
The Toastmaster general of baseball was considered baseballs funniest spokesman by his fellow players. The records title "That Holler Guy" was picked up from the nickname he earned while playing ball. The front cover pictures Joe Garagiola with Mickey Mantle, Stan Musial, Yogi Berra, and Ken Boyer in St. Petersburg, Florida during spring training. The back of the cover has testimonials to Joe Garagiola from Yogi Berra, Leo Durocher, Gil Hodges, Stan Musial, Toots Shor, and Casey Stengel, along with their black and white photos.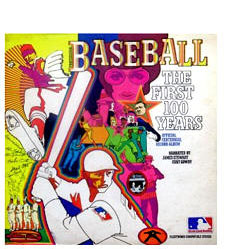 Introduced by James Stewart and narrated by Curt Gowdy, "
Baseball - The First 100 Years, Official Centennial Record Album
" was released in 1969. The psychedelic style cover was designed by American commercial illustrator Bob Peak. He is best known for innovative designs of the modern movie posters that include West Side Story and My Fair Lady. Peak received a commission from the U.S. Postal Service to design stamps for the 1984 Summer & Winter Olympics.
The record features the great moments of 100 years of baseball. As stated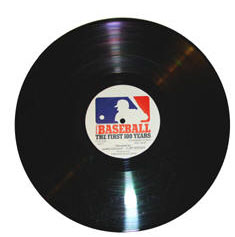 on the back, "....your memory will come alive with things you haven't thought about for years.... Whether it was Bobby Thomson's shot heard around the world, Don Larsen's World Series Perfect game, or the emotional farewells of Lou Gehrig and Babe Ruth, "You will remember where you were and what you were doing." There is also a black & white paper sleeve version and a 7" color cover. The record labels feature the official MLB logo which was first used in 1969.
"
The Mythical Championship of the universe,
" the brainchild of BFV&L Promotions, brought together The Sporting News, Apple Computer, HOF Broadcasters Jack Buck and Lindsey Nelson to create "The Greatest Baseball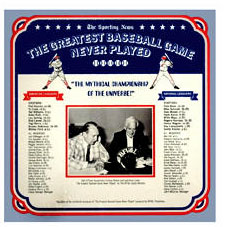 Game Never Played." A 1982 simulated broadcast of a hypothetical baseball game between all-time Major League Baseball greats. The broadcast was aired on 200 radio stations in the United States and Canada and also released as a record album.
Set in Philadelphia's Shibe Park the simulated game was announced by Jack Buck and Lindsey Nelson. Following the format of the All-Star Game, it featured the National League's all time greatest players against the all time greatest players from the American League. The National League won the game 5-4 on a bottom of the 9th walk off home run by Hank Aaron.
with covers depicting our favorite players, team or Hall of Famers from the past, is a great addition to any collection. The extra bonus of being able to hear their voices, or a historic recorded event, is a listen back in time. As stated on one album; You could re-live the great moments of baseball, "your memory will come alive with things you haven't thought about for years. Flashbacks of your youth - the kids you grow up with - warm, lazy summer afternoons."
These recordings of the past are lost to the digital age. It is something truly unique and should be preserved for modern times. There are just too many great records out there to feature in one Newsletter. There will be a continuation, a "Side Two," the flip side or side B.