BASEBALL BAT
DATING GUIDE

References
---
1927 Butler Brothers
Wholesale Catalog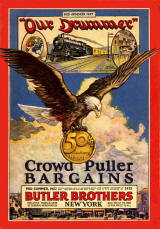 ---
1976 Woolco Winfield Baseball Glove ad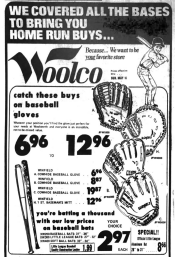 ---
American Eagle 1951
Spiegel Catalog Ad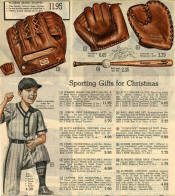 ---
JC Higgins 1948
Sears Catalog Ad
---
Marathon 1930 Montgomery Ward Catalog Ad
---
1920 Pennant Baseball Glove Catalog Ad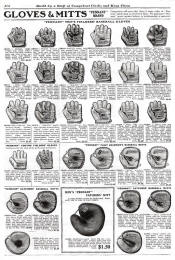 ---
1940 Belknap Hardware Baseball Glove Catalog Ad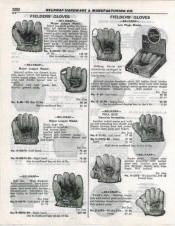 ---
1960 Gambles
Baseball Glove ad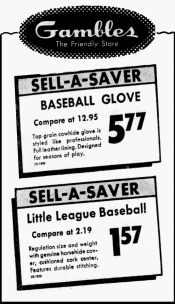 ---
1965 Johnny Walker
Baseball Glove ad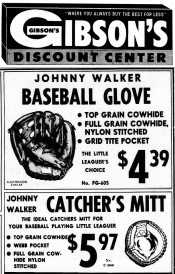 ---
1947 Maximus Brand
B.F. Goodrich Dealership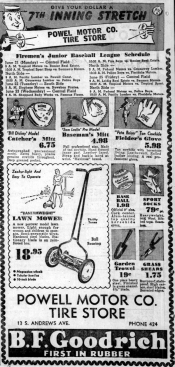 ---
MasterCraft - CTC Canadian Tire Corp.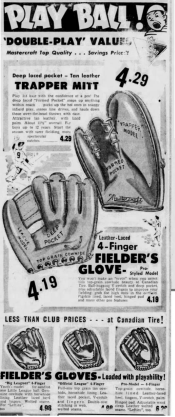 ---
1948 Ripon Knitting Works Baseball Glove Catalog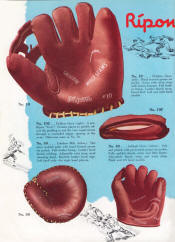 ---
Western's - 1953 Western Auto Supply Co. Catalog
---
MISCELLANEOUS & STORE BRAND
BASEBALL GLOVE INDEX
This guide will help identify and date your miscellaneous and lesser known branded baseball gloves. A catalog of private in-store brands of b

aseball gloves

sold by; hardware, drug, discount, and department stores. Samples with links lead to additional company information on baseball glove manufactures, retainers, and wholesale distributors.
---
| | | |
| --- | --- | --- |
| Brand Sample A-Z | | Company - Description |
---
| | | |
| --- | --- | --- |
| | | Alex Taylor & Co. which at one time was one of the major Sporting Goods store located in New York, N.Y. was established in 1897. The company carried a large line of equipment for a variety of sports that included; basketball, lacrosse, fencing, skiing, golf, tennis, Football & baseball. It is not known when the company went out of business but like most of the independent outlets, they most likely succumbed to the onset of the large chains. |
---
| | | |
| --- | --- | --- |
| | | American Eagle was the in-store brand used on baseball gloves sold in the Spiegel mail order catalog. Most of the gloves were offered in the catalogs during the 1940's and 1950's. Baseball glove endorsed models included; Al Simmons, Bill Werber, Dick Culler No. 600, Hoot Evers No. 1709, Jelly Sorelle No. 53V7003, and the 1951 issue Warren Spahn no. 7025, manufactured by Hutch. |
---
Belknap Hardware MFG. Co.

Bellnap was a wholesale hardware supply company established in 1840. Since 1890 their catalog offered a line of sporting goods which included baseball gloves. The baseball gloves were made by sporting Goods manufacturers that placed the Belknap logo on the gloves. The earliest gloves feature 1 inch web from the 1910's and player endorsement gloves from the later years include; Lou Gehrig No. 52-F21 base mitt, Joe DiMaggio No. D-204, fielders glove, and Jim Hegan No. D52-F42 Catchers Mitt. The company went bankrupt in 1985.
---
BLS - Buffalo Leather Supply Co.

The Buffalo Leather Supply Company produced Leather sporting goods such as Footballs, baseballs, and baseball gloves. The athletic equipment was sold in discount and hardware stores, that included Belknap hardware & Manufacturing Co., and Arco sporting goods.
---
Cambridge Sporting Goods Corp.

Established in 1943 Cambridge Sporting Goods Corp. was a sporting Goods wholesale distributor located in North Bergen NJ,

They carried a full line of sporting goods made by the major manufactures but also carried a Cambridge line of sporting goods that were manufactured and privately branded for them by other companies. Their baseball gloves were imported from a Japanese manufacture.
---
Coast To Coast Hardware Store

The Coast to Coast hardware store chain was founded in Minneapolis in 1928. All the stores had a set layout, 12 departments, with inventory such as; housewares, gifts, appliances, auto supplies, electrical plumbing, garden supplies, paint, toys, and sporting goods which included baseball gloves. The Coast to Coast store brand baseball gloves were manufactured by the Denkert sporting Goods company. In 1990, Servistar purchased Coast to Coast, and by 1997 merged with True Value, and did business under the True Value name.
---
Diamond MFG. Co. Shapleigh

The Diamond MFG, Co. "Diamond Brand" is the in-store brand for the Shapleigh Hardware Co. St. Louis, Missouri. Founded in 1843 by Augustus Frederick Shapleigh, by the early 1900's the Hardware supplier carried a full range of household goods, hardware, guns, and knives with the private brand "Diamond Edge" logo. In 1901 Saunders Norvell of Simmons Hardware, bought into the company and used the name, Norvell-Shapleigh Hardware. In 1918 the name was changed to Shapleigh Hardware Co. Their catalog also included a line of baseball gloves.
---
| | | |
| --- | --- | --- |
| | | Ed Maynard Inc. of Plymouth New Hampshire was a company started up in 1932, by John Edward Maynard, son of John Fernando Maynard, co-founder of the Draper and Maynard Sporting Goods Co. Ed Maynard's Sporting Goods company, was a manufacturer of outdoor clothing, and of sports equipment that included tennis rackets, Skis, uniforms, baseball bats and gloves. Ed Maynard Inc. filed for bankruptcy in 1941. The few baseball glove models that were produced in the short time the company was in business include, Professional Model No. F50, and All Star No. F34. |
---
| | | |
| --- | --- | --- |
| | | Firestone Olympian was the private in store brand sold by Firestone Home and Auto Supply stores. Firestone sold a line of outdoor equipment, and sporting goods, made by some of the major sporting good companies such as Spalding. At one time the Denkert Sporting Goods Company made the gloves for Firestone and placed the private Firestone Olympian brand on them. Endorsed models include; Charlie Keeler, Rudy York, Phil Rizzuto, Bob Doerr, Phil Masi, Johnny Mize, and Vince DiMaggio. |
---
| | | |
| --- | --- | --- |
| | | Folsom Arms was a retailer and distributor of firearms and sporting goods back in the late 1800's. They branched out into Athletic equipment in the 1890's through an agreement with A.G. Spalding, who manufactured the gloves with the Folsom brand. Denkert made gloves for Folsom in the later years. The Trademark Folsom High Quality Sporting Goods logo was used on all Folsom sporting Good products. Folsom arms closed shop sometime around the 1950's. |
---
Grinnell Morrison-Ricker Mfg Co.

Established in 1857, the Morrison-Ricker Mfg company of Grinnell, Iowa was most famous for their driving gloves. They manufactured all styles of gloves, in addition to a line of baseball gloves. Athletic goods such as baseball gloves were not their standard production item but were only made in slack times at the factory. They had an interest in the sporting goods business and in 1923 Morrison-Ricker nerged with the Lannom Mfg. company from Tennessee. In 1921 George Lannon established the "Worth" trademark for the sporting goods division of Lannom Manufacturing company.
---
| | | |
| --- | --- | --- |
| | | Hiawatha was the in-store brand for Gambles department store. The Hiawatha brand name was a Gambles registered trademark filed in 1949, and was used for some of their sporting good products such as outboards, fishing rods, bicycles, baseball bats, and gloves. The catalog numbers for their baseball gloves started with the prefix 25- followed by a 4 digit number. The Denkert Sporting Goods Company made baseball gloves for Gambles, using the Hiawatha brand name. |
---
| | | |
| --- | --- | --- |
| | | From 1908 until 1961 Sears, Roebuck & Company sold a wide variety of sporting goods, under the brand name "J. C. Higgins." John Higgins was the manager of the headquarters' office bookkeepers. John Higgins consented to Sears use of his name for a new line of sporting goods. Since he did not have a middle initial, Sears added the "C." In 1908, the Western Sporting Goods Company (Wilson) began putting J.C. Higgins on baseball gloves sold in Sears catalogs. The J.C. Higgins brand disappeared shortly after Sears introduced the Ted Williams brand of sporting and recreation goods in 1961. |
---
| | | |
| --- | --- | --- |
| | | The Johnny Walker brand was a line of baseball gloves distributed to, and sold in discount stores such as Gibson's Discount Centers. Although the majority of gloves were imported from Japan or Korea, it has been noted that Rawlings, and Denkert manufactured some of their models. For the most part the gloves can be dated to about the 1960's to the early 1970's. Models include: FG48, FG605, FG200, FG300, FG555, Fielders gloves, B-22, J-2, B8000 first Base mitt, and C222, C3000, C3900, Catchers Mitts. The Denkert Sporting Goods Co. produced Monte Irvin, Bill Goodman, and Del Crandall endorsment models under the Johnny Walker brand name. |
---
| | | |
| --- | --- | --- |
| | | Kent was a manufacture and distributor of discount store sporting goods from the late 1960's to the 1980's. Established in 1959, the Kent Sporting Goods Company, Inc. originally based in Batesville, Mississippi was founded as a subsidiary of Eagle Rubber Company, a manufacturer of football gear, helmets and uniforms. Products included; life vests, lawn games and accessories, Tether ball sets, basketballs, back boards, Golf bags, football equipment, baseballs, softballs, and baseball gloves. |
---
| | | |
| --- | --- | --- |
| | | Lawlor's Sporting Goods was established in Lincoln, Nebraska, as the Lawlor Cycle Co., in 1896 by Nicholas Lawlor. Among the earliest product lines sold were Harley Davidson motorcycles. The company later expanded, operating two stores in Lincoln, and two in Omaha. Following market trends Lawlor's supplied customers with items such as phonographs, records, hardware, household appliances, and always maintained a full line of sporting goods. The Lawlor's brand baseball gloves were manufactured by Hutch Sporting goods. Known models produced in the late '40's early 50's include; No. 100 DiMaggio, and the No. 500 Connie Ryan. |
---
| | | |
| --- | --- | --- |
| | | Founded in 1876 the McKinnon Dash Co. was a manufacturer of dashboards for horse drawn buggies and carriages. The company also manufactured other products such as bicycles, canvas goods and welded chain. In 1927, the McKinnon Dash Co. purchased Bon Tober Sporting Goods, a manufacture of baseball gloves and balls. After 1930 McKinnon began producing a complete line of leather sporting goods, under the "McKinnon" brand name. |
---
| | | |
| --- | --- | --- |
| | | Marathon is the in-store brand of Sporting Goods sold in the Montgomery Ward mail order catalog. Montgomery Ward also carried a line of baseball gloves with the private labeled Marathon Brand, Hawthorne, Wards/Hawthorne, as well as a Montgomery Ward brand that included gloves imported from Korea. The earliest baseball gloves feature the Marathon Trademark Shield logo, and also used a plain "MW" logo in the later years. The retailer operated between 1872 and 2000. |
---
| | | |
| --- | --- | --- |
| | | Maximus was a brand of baseball gloves sold by B.F. Goodrich Tire Stores, and dealers. It is believed that Denkert Sporting Goods Co. made the Maximus brand baseball gloves. B.F. Goodrich catalog also carried toys, bicycles, and sporting goods which included baseball gloves. Player endorsed models include; Ray Mack, Joe Medwick H116 (block letter) Pee Wee Reese H117 Pete Reiser Maximus H1114, Rip Collins H119 Baseman's mitt, Sam Leslie H121 Baseman's Mitt, Bill Dickey Catchers Mitt, |
---
Mastercraft - CTC - Canadian Tire Corp.

Mastercraft is the store brand for the Canadian retail chain Canadian Tire Corporation. The CTC catalog included tires & tubes, auto suplies, tools, house paints, house and garden supplies, electronic, toys, bicycles, and sporting goods which included baseball gloves under the Mastercraft brand name. Canadian Tire also sold baseball gloves inder the "CTC" brand by the 1960s. Mastercraft glove models include: S702 Semi-Pro, S969 Trapper first base mitt, and C60 Rollie Hemsley endorsed catchers mitt. CTC models use a prefix followed by a four digit number.
---
Noah's Ark Auto Accessories Inc.

Noah's Ark Auto Accessories stores operated from 1925-1966, in Rochester, Buffalo, and Syracuse New York. The department stores carried a wide range of merchandise that included, auto accessories, hardware, electronics, and sporting goods which included baseball equipment made by the major manufactures. The Baseball gloves were made for them with the in-store Noah's Ark brand. Player endorsed glove models include; Buck Crouse 858A catchers mitt, Babe Dahlgren 856 base mitt, Lloyd Waner 850, Pee Wee Reese V302, Vince DiMaggio 849E, Earl Averill G52, and Chet Laabs V301 fielders gloves.
---
Pennant (Butler Brothers)

Pennant was a brand of sporting goods sold in the Butler Brothers general merchandise mail order catalog. Their catalog consisted of a full line of Pennant brand sporting goods. The company carried baseball equipment made by major sporting good manufactures such as Spalding, Reach, and the Thomas E. Wilson Co. makers of the Pennant brand label. Rawlings might have produced gloves with the Pennant brand in later years.
---
Reliance (H. Niedecken Company)

The "Reliance" brand baseball gloves with the anchor logo were made by the H. Niedecken Company, which was founded in 1847 by Henry Niedecken Sr. in Milwaukee, Wisconsin. It was a well respected bookbinder and blank-book manufacture that later produced and sold, office supplies, office furniture, stationary, and among other items that included toys, decorative china, "Holiday Novelties" druggists' sundries, and Base Ball Goods. Based on newspaper ads, their baseball equipment, bats, gloves, and mitts, are loosely dated to about 1900-1909.
---
Ripon Knitting Works

Founded in 1880, the Ripon Knitting Works company of Wisconsin manufactured an extensive line of casual footwear, slippers socks, hosiery, gloves and mittens. In 1942 the company won a contract to manufacture Mitten shells for the U.S. Army and Navy. They also started producing baseball gloves for the Army during the war. After the war in 1946 Ripon issued their first catalog to the Sporting Goods Trade. Models featured in their catalogs issue through 1946, and 1948 include, The No. 10Z - Zipper Heel, No. 42 - ambidextrous baseball glove, and No. 40, raised pad softball glove.
---
Western's - Western Auto Supply Co.
Western Auto Supply Company—known more widely as Western Auto—was a specialty retail chain of stores that supplied automobile parts and accessories. Western Auto also sold sporting goods, dating back to about the 1930's or '40's using the "Western's" private store brand. The gloves were manufactured by the Wilson Sporting Goods Co. By the mid 1950's Western Auto switched to the Revelation brand of Sporting goods which had a similar logo. In 1988, Sears Roebuck purchased Western Auto.
---
Winfield - F.W. Woolworth

Winfield was a line of Juvenile, toy and discount store quality baseball gloves carried by the "Five-and-Dimes" variety store F. W. Woolworth Company. The brand seems to have been taken from the founder, Frank Winfield Woolworth's middle name. The baseball gloves were also part of "Junior Baseball Sets" that also included a baseball & wooden Winfield baseball bat. The Woolco company, founded in 1962 by the Woolworth Company, also carried the Winfield Diamond-Pro line of baseball gloves. Woolco closed in 1983, while the parent company Woolworth, closed in 1997.
---
Wimberly and Thomas Hardware Co.

The Wimberly-Thomas Hardware Co., was founded in 1887, and acquired by the Belknap Hardware Co., in 1984.This Wimberly &Thomas Hdwe. Co., Birmingham, Alabama, F5 High School fielders glove features "The Mark Of Quality" A-A-A-A Trademark diamond logo. The Full grain Cowhide Greased Palm, "discount store" quality baseball glove has vinyl piping. The split finger, 1940's style glove is more than likely dated to the 1950's or later.
---
Wolverine Shoe & Tanning Corp

Founded in 1883 the Rockford, Michigan shoe manufacturer became the Wolverine shoe & tanning corp. in 1921. When the Great Depression hit, the company made baseball gloves on the side. During World War II, Wolverine worked for the U.S. Navy, developing pigskin gloves. In 1959, Wolverine launched the Hush Puppies brand of casual shoes. Baseball glove models include the "Wolverine Tiger Line," (1934 Tigers), No. Y22 Mickey Cochrane catchers mitt, No. K348 Jerry (Gee) Walker, Charlie Gehringer, and Pete Fox. Al Van Camp base mitt, No. 327 Softball mitt.
---
Yale Moneco Co.

Incorporated in 1906 the Mortimer Newman Company, a manufacture of golf caps, conducted business as the Moneco Company of New Haven. Yale is the brand name for the Moneco Company, a manufacture of Juvenile sporting goods, that included, punching bags, medicine balls, footballs, soccer balls, boxing gloves, and baseball gloves. By the 1940's the Moneco Co. was distributing their athletic equipment, to drug, hardware and discount stores throughout the country.
---
NOTES:
As far back as the earliest days of baseball, companies that manufactured general leather goods took advantage of the great demand for baseball gloves, and produced their own brand. It was a way of generating extra income for their business especially during tough times brought on by the Great Depression. Small Sporting stores, hardware, drug, discount, and department stores commonly had privately branded baseball gloves made for them, to help promote their business.